News
School gradual reopening, starting with Y6.
5th June
Following the successful return of Y6 this week, and the planned return of FS1 & 2 on Monday, I am pleased to be able to write with the proposed plan for the return for the remaining year groups. These are pending full DCYP approval and may be subject to some change, however I am hopeful that this will be minimal. We are very lucky to have the space in school to return all of our children before the summer break and the proposed plan is below:
15.06.20 Year 1 and Year 5
17.06.20 Year 2
22.06.20 Year 3 and Year 4
I will send through further details regarding school times, details of the day and information on equipment that the children will need, before each year group returns. We have also made a short video outlining the changes, which will be shared today via our Facebook page.
It has been brilliant to see how well the Y6 children have come back in this week, and we are really looking forward to getting our school back up and running.
Thank you for your patience at this time,
Best wishes,
Mrs Alexandra Thorp MA(Ed) Headteacher
29th May, 2020
Dear parents,
Phased re-opening of Episkopi School
As you will have heard from the media release on BFBS today, and in the attached letter from CBF, the trade union consultation has now been concluded and the decision has been taken to start the return of children to school.
In line with UK and RoC guidance, this will be on a phased basis. The initial year groups will be:
Year 6 – Wednesday 3rd June
FS1 & FS2 – Monday 8th June
There is no clear directive at this time for the return of the remaining year groups, and so remote learning will resume for these classes from Monday 1st June until further notice.
The school will also provide remote learning supervision for the children of critical key workers, a list of which are being provided to us by command.
I will write to Y6 and FS1/2 parents again on Monday with further details on the return, including information on drop off and collection arrangements, groupings, uniform and snacks. Just a reminder, as I mentioned in the details that I shared before half-term, all children will need to bring their own water bottle (clearly named please) and non-perishable snack (one that doesn't need to be stored in the fridge).
Have a good weekend.
Mrs A Thorp MA(Ed)
Headteacher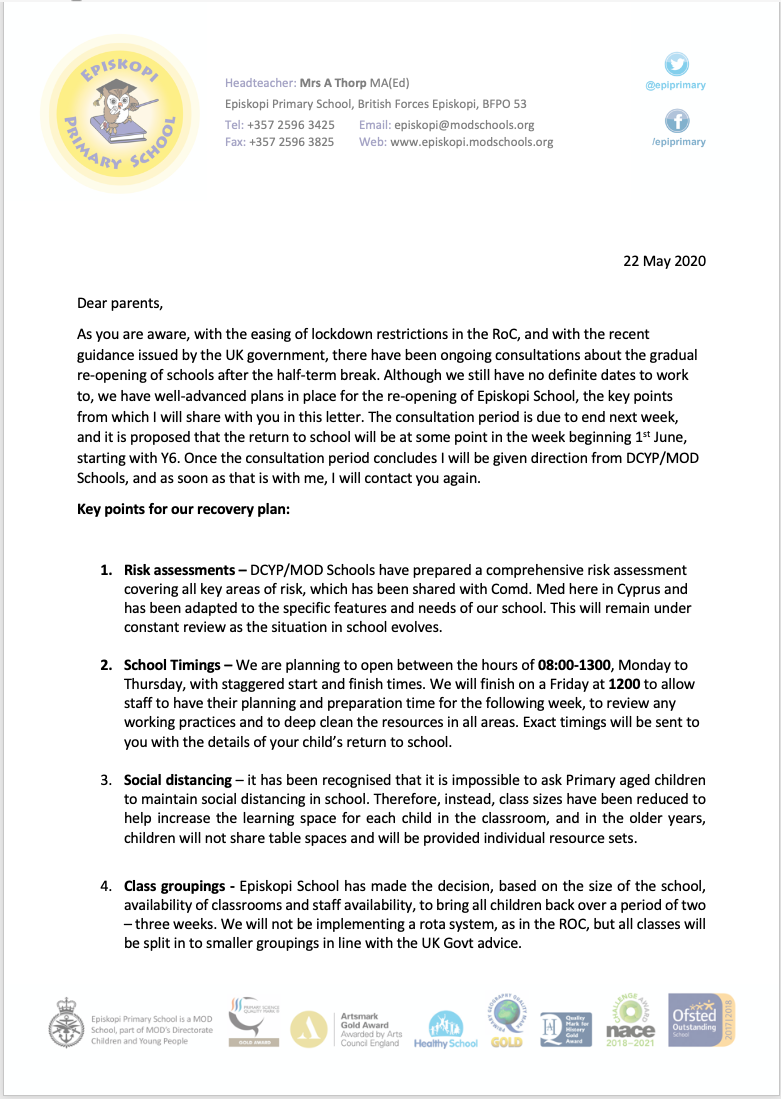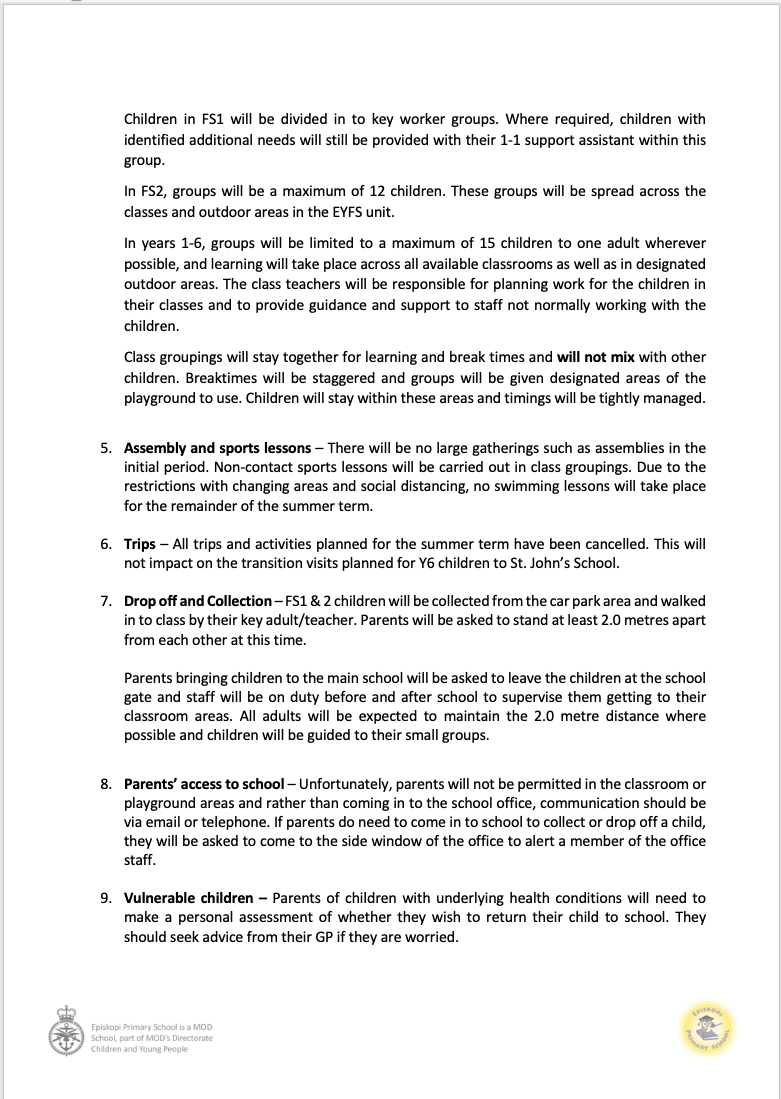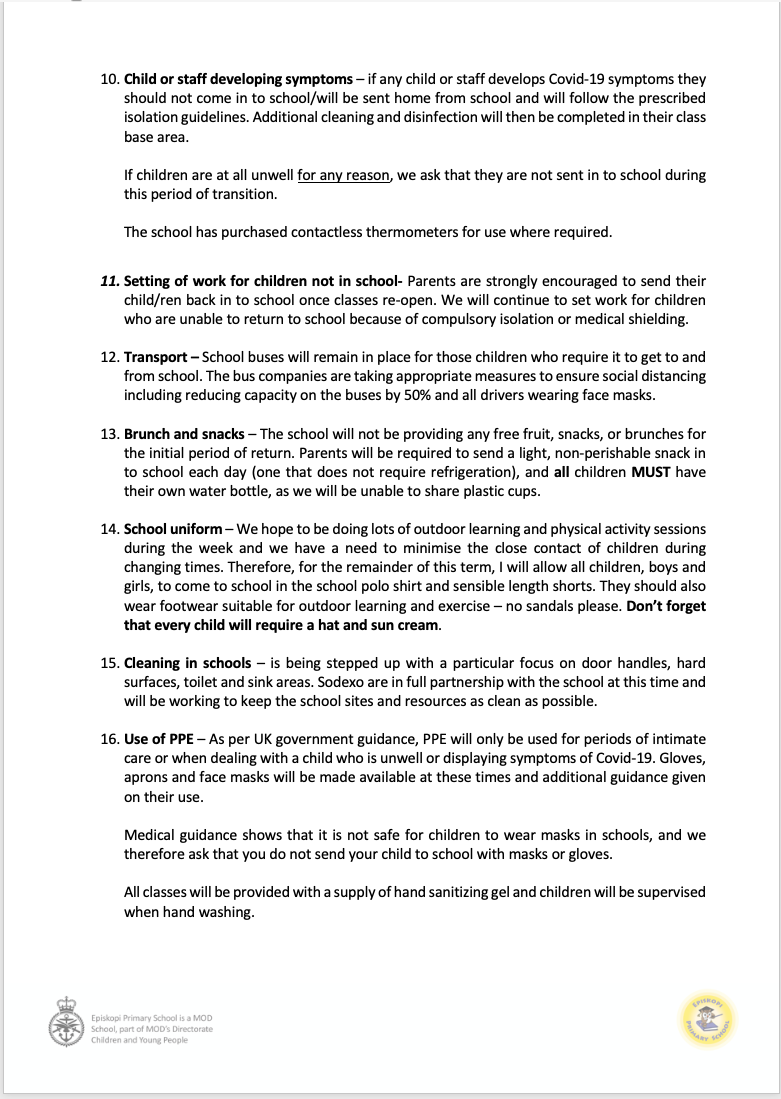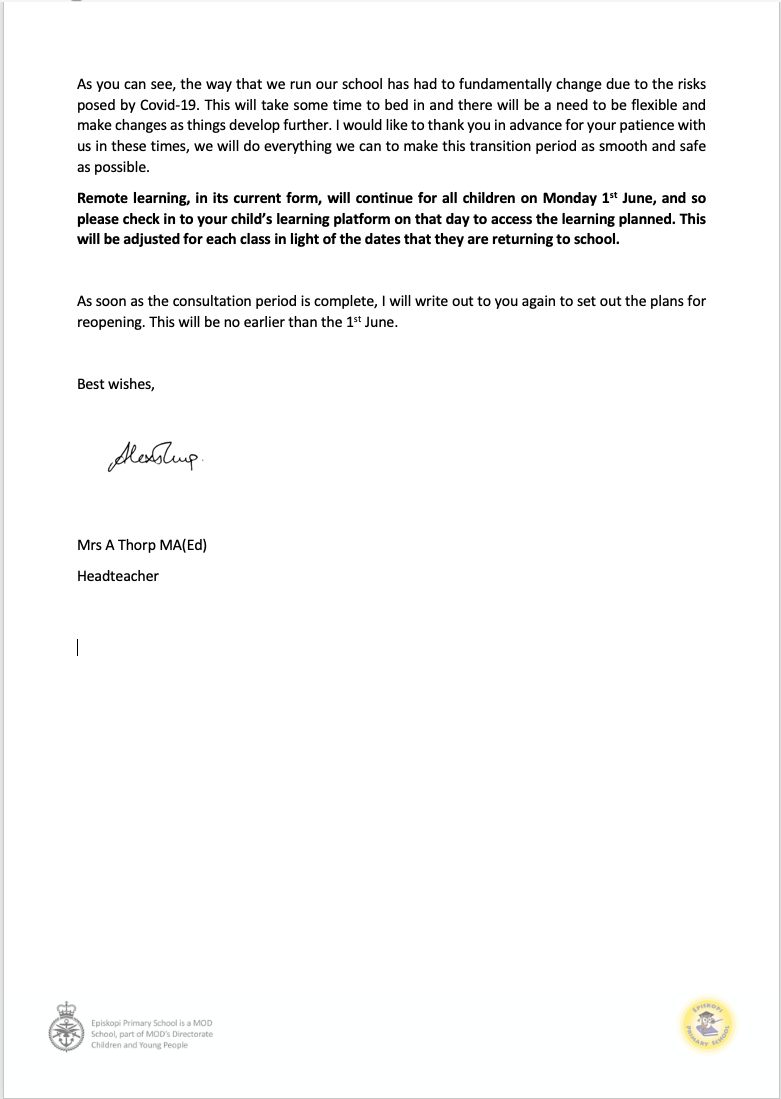 Episkopi Primary School will remain closed for pupils after the Easter holidays. If there are any changes to this, we will let parents know via our Facebook page, Class Dojo and Tapestry. Please read the letter to parents from CBF, sent on Wednesday 1st April: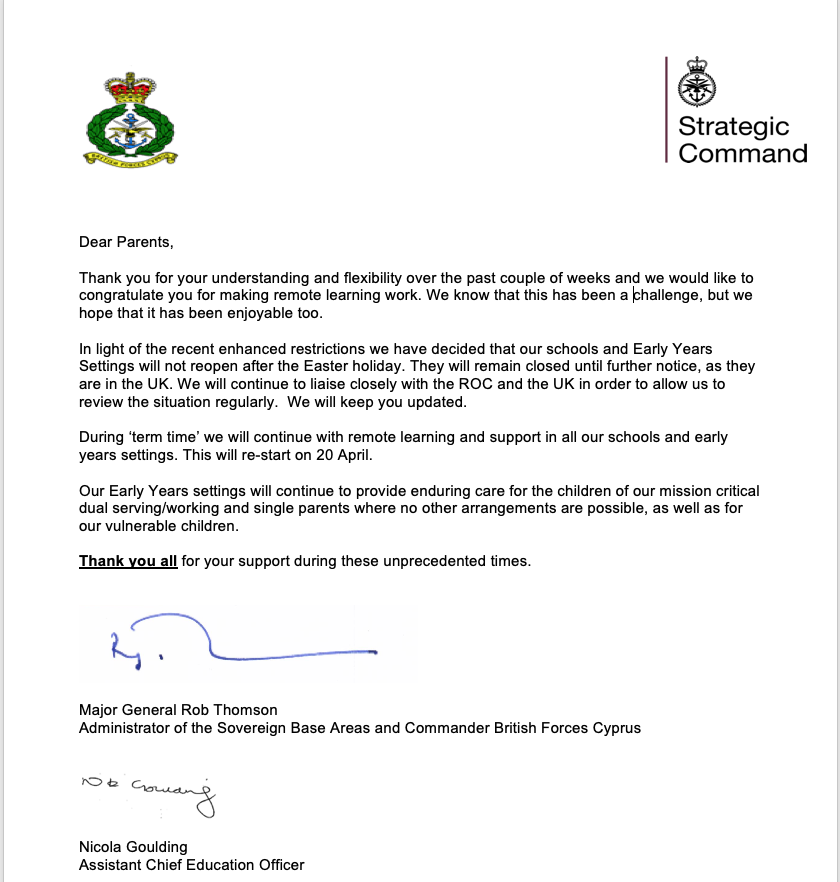 Online learning - teachers will continue to work and prepare materials and links for our pupils to access whilst our school is closed. Please see the Online Learning page on our website for links and ideas. This will also be updated regularly.
If your child misplaces any of their login cards, please either contact their class teacher or email Mrs Thurgood - emma.thurgood@modschools.org