WW2 Evacuee Sleepover, 2019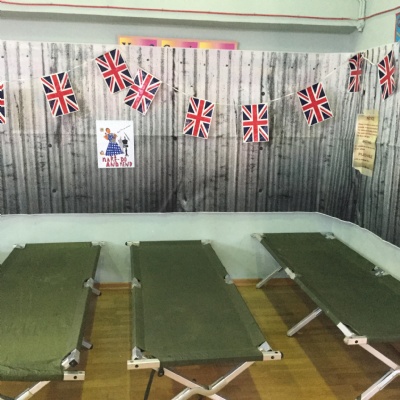 In order to experience immersive history, Y4 had the opportunity to take part in an Evacuee Sleepover at the end of June - what an experience it was!
On Friday 28th June, children clad in flat caps, long socks and 1940s' style outfits arrived at school for the annual Evacuee Sleepover. The evening began with everybody playing games including 'Queen-io, who's got the ball-io', hop scotch and marbles. Suddenly the air raid siren sounded and we all had to run for cover in the Anderson Shelter! One child was dragged by the ear for not coming quicker – though he had claimed to hear German voices nearby! It was decided we should retreat to the country, but first we had to improve our physical strength with some Farm Fitness. After a tiresome workout we enjoyed a traditional dinner of bangers and mash. Swiftly we moved aboard the train and arrived at the billeting office to meet our host families. From there we were encouraged to participate in all sorts of activities that would equip us for life during WWII – spy training, making a parachute guy, code cracking, memory games and music and dance of the time. We then got word that there was indeed a German spy in our midst and we had to undertake a hunt for clues – it turns out the seemingly innocent Mrs Garner was working for the enemy!! The evening drew to a close with a cup of hot cocoa and the opportunity for us to peep inside our goody boxes. We got to read letters from our parents far away and it certainly was very emotional. After a bed time story, we slept on our camp beds in the hall. It was a busy and brilliant experience that will never be forgotten!